2023 Guide to the Best Online Colleges for a Nutrition Degree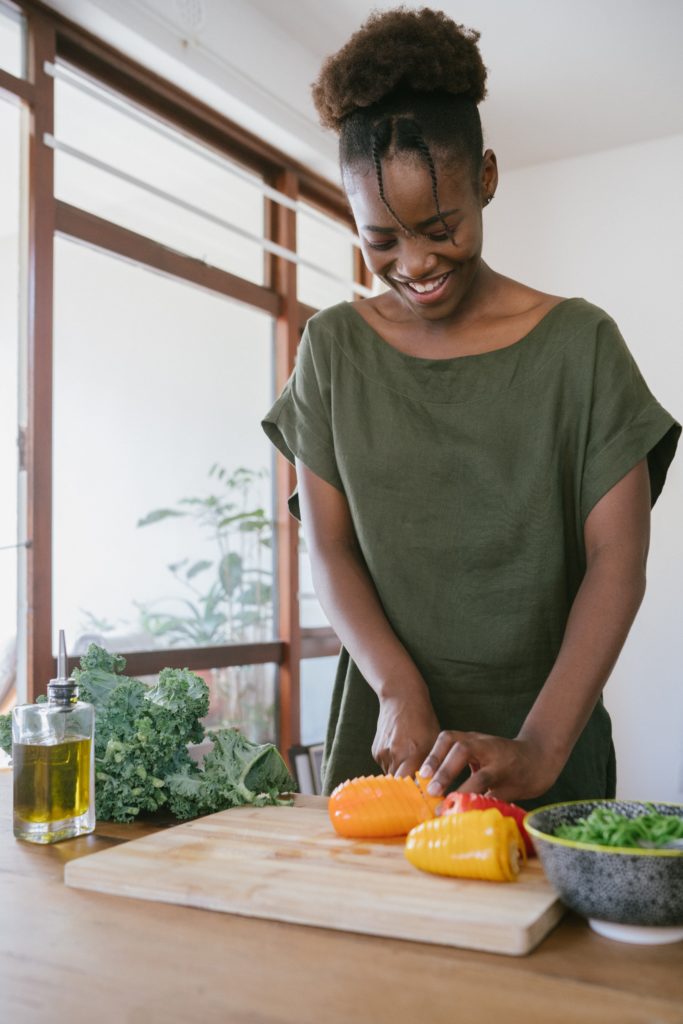 The future is bright if you are interested in an online nutrition degree! The national average salary for nutritionists is $67,500, making the field worth pursuing. Online nutrition degrees are respected in the industry if they're from a regionally accredited college. There are a lot of accredited online colleges that offer quality nutrition degree programs. Wherever you live in the United States, you can find affordable online colleges offering nutrition degrees.
Best Online Colleges for a Nutrition Degree
An online degree in nutrition can open up a world of opportunities for those looking to pursue a career in the health and wellness sector. With an online degree, you can gain the knowledge and skills needed to become a qualified nutritionist or dietitian. You will learn about the science behind food, nutrition, and health, as well as how to apply this knowledge to help people lead healthier lives. An online degree in nutrition also allows you to specialize in specific areas such as sports nutrition, public health, or food science. When pursuing a degree from an online college, you can develop your knowledge and skills while balancing other commitments such as work or family life.
Nutritionist vs. Dietitian
What's the difference between a dietitian and a nutritionist? A dietitian helps people who have a health condition that they want to improve through their diet. Nutritionists work with clients who need guidance on eating a healthy diet but don't have a specific health problem that they're treating. Both of these professionals earn around the same salary.
Specializations for Online Nutrition Degree Programs
Online nutrition degree programs are becoming increasingly popular as more individuals look to pursue a career in the health and wellness industry. With a wide range of specializations available, students can tailor their degrees to meet their specific needs and interests. From nutrition science to food safety and public health, options are abundant for those looking to specialize in this field.
Specializations to consider include:
Healthcare administration
Psychology
Holistic nutrition
Alternative medicine
Teaching
Registered dietitian
While specializations are not necessary, they are advantageous if you have a specific career path in mind. You may have to go through additional course material for a specialization. Requirements are dependent upon the school, program, and specialization.
Career and Salary Information for Online Nutrition Degree Programs
The national average salary for nutritionists is $67,500. According to the BLS, the top employers are outpatient care centers, general medical and surgical hospitals, special food services, nursing care facilities, and local government. However, these aren't necessarily the highest-paid positions for a nutritionist.
The pharmaceutical and medicine manufacturing industry is the highest-paying industry for nutritionists, with an average annual mean of $93,920. According to Zip Recruiter, eating disorder specialists, chief clinical dietitians, and registered dietitians have the highest salaries. A nutrition aide who works in nursing care facilities has a lower salary than you might expect: $23,000–$28,000 per year.
Here are some of the career options, along with average annual salaries.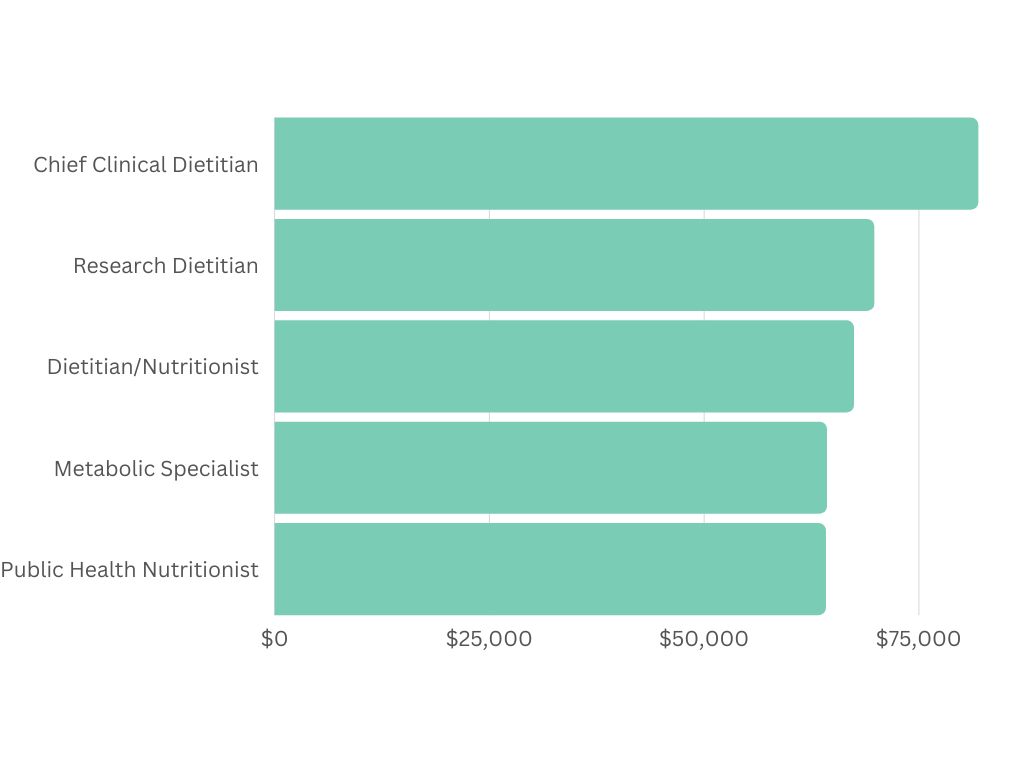 Data from Ziprecruiter.com
Curriculum and Courses for Online Nutrition Degree Programs
Your curriculum depends on what type of nutrition degree you're earning. An associate degree covers the basics of nutritional needs, wellness psychology, and different kinds of diets. You'll learn about the vitamins and minerals the human body needs and how to efficiently extract them from the foods you eat. How a person's nutritional needs change with age is another vital part of your curriculum. Some courses touch on sports nutrition because athletes need a specialized diet. Associate programs also teach you about proper food preparation, sanitation, and safety.
Online Bachelor Degrees
Most careers in the nutrition field require at least a bachelor's degree. This curriculum provides a deeper dive into how foods affect your body and prepares you for working in a hospital and clinic. Typical courses for a bachelor's degree include clinical nutrition, cultural nutrition, community nutrition, nutrition across the lifespan, and nutrition and sport.
You'll learn about the diagnostic aspects of nutrition to understand the connections between illnesses and what a person eats. In a community nutrition course, you develop communication skills to convey your knowledge to people seeking your help effectively. You'll also learn how to impact people who aren't yet looking to eat healthier. Whether or not you specialize in community nutrition, these communication skills are essential in marketing yourself and serving your clients.
Online Master's Degrees
If you're interested in research, you'll need to enroll in a master's or doctorate program. A master's curriculum teaches you about research methods and advanced nutritionist skills. Compared to a bachelor's and associate's, you would increase your earning potential with this degree. When you go for your master's, you can focus on a subset of nutrition, such as clinical, community, global, or sport.
Typical courses for a master's degree besides nutrition research are specialized diets and nutrition, psychology of eating and wellness, nutrition communication, and nutrition and public policy. You'll learn the pros and cons of different diets that people may choose, such as vegetarian, plant-based, and raw food. The psychology course details how people make food choices and the social influence on eating. The nutrition and public policy class covers federal, state, and local regulations regarding food.
Online Doctorate Degrees
A doctorate is a deeper dive into teaching you how to conduct nutrition-related research. Many people with doctorate degrees in nutrition work at research institutes and government agencies.
Courses that you can expect in a nutrition doctorate program are advanced nutrition and metabolism, comparative nutrition, molecular nutrition, nutrition and biotechnology, and international nutrition. Comparative nutrition educates you on the digestive processes in other organisms besides humans. This knowledge can spark ideas on further health innovation for humans.
Admissions Requirements for Online Nutrition Degree Programs
You need a high school diploma or GED to enroll in an undergraduate online nutrition degree program. Many programs also look for a minimum GPA of 2.0–3.0. Some schools ask to see your SAT or ACT scores. In situations where it's optional to submit your SAT or ACT score, the rest of your application becomes more important when you don't. Transfer students may need to submit transcripts from their previous schools.
Accreditation for Online Colleges with a Nutrition Degree
Accreditation is essential. You can ensure you receive a quality education when choosing an accredited school. They must meet specific standards to maintain their status. A degree from an accredited school is mandatory if you plan on becoming a registered dietitian.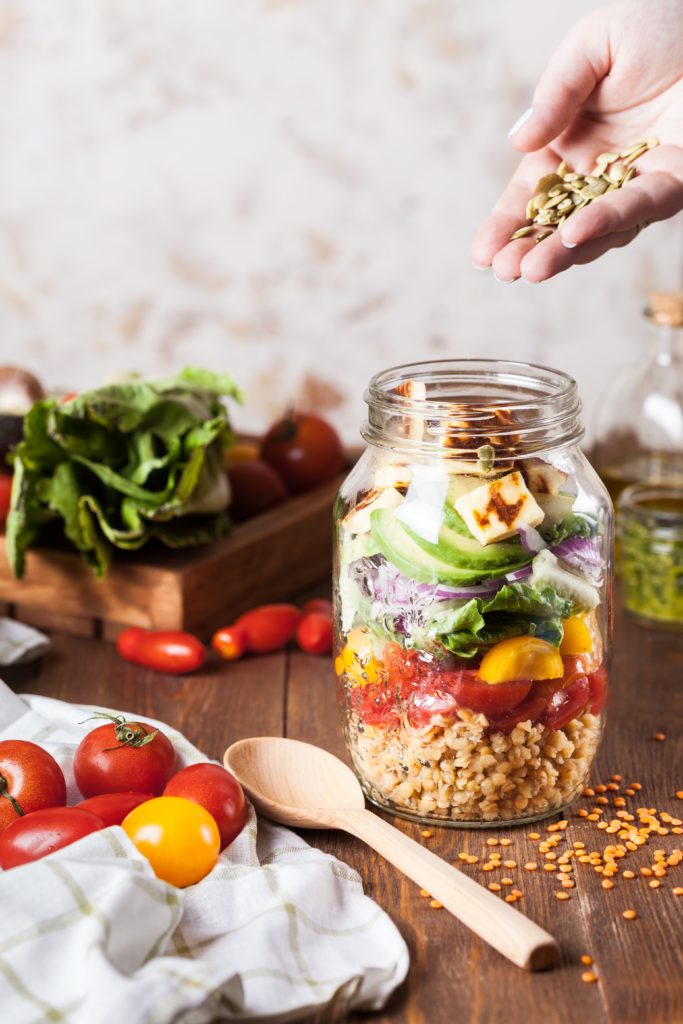 You should consider two types of accreditation when looking at online colleges. The school itself should be regionally accredited. Regional accreditation guarantees that the online school has the highest educational standards. Only regionally accredited schools can offer federal financial aid.
Another type of accreditation is industry-specific. These accrediting bodies focus specifically on degree programs or departments. The Accreditation Council for Education in Nutrition and Dietetics (ACEND) is a recognized accrediting body of nutrition degree programs. Some employers and graduate programs require undergraduate nutrition degrees from nutrition programs accredited by the ACEND.
Financial Aid & Scholarships for Online Nutrition Degree Programs
Applying for financial aid from an online college can be a daunting task. But it doesn't have to be! With the right knowledge and information, you can successfully apply for financial aid and get the funds you need to pursue your education. Most colleges provide financial aid for both online and in-person students.
First, you'll want to fill out the Free Application for Federal Student Aid (FAFSA). This application will let you see what federal grants, scholarships, and loans are available. Remember, grants and scholarships do not need to be repaid, but loans do.
Often, schools offer need-based and merit-based scholarships. You should be able to access that information on the school website. If you need help finding scholarships through your school, consider applying for scholarships from other organizations. The federal government provides an excellent tool for finding scholarships.
Notable Scholarships
Amaze Yourself: They award $10,000–$50,000 for gifted and high-achieving students 17+.
Asparagus Club Scholarship: The organization awards ten scholarships per year. The GPA minimum for this scholarship is 2.5.
America's Farmers Grow Ag Leaders: This scholarship is for individuals who are pursuing a career in food science, agriculture, farming or research on the future of farming.
CANFIT Scholarship: Minority students who want a career in nutrition can apply for this scholarship.
CGCS-Bernard Harris Scholarship: Four scholarships are given to black students, and four scholarships are given to Latino students each year. Anyone majoring in a STEM field is allowed to apply.
Dairy Management Inc. Scholarship Program: This foundation gives 11 scholarships yearly to students who want a farming or dairy industry career.
EmPOWERED to Serve Scholarship: Future public health nutritionists can apply for the EmPOWERED to Serve Scholarship.
Michael Moody Fitness Scholarship: High school senior, undergraduate, and graduate students who are interested in sports nutrition qualify for this scholarship.
What Can You Do With a Nutrition Degree from an Online College?
With a Nutrition Degree from an Online College, you can open up a ton of opportunities that will help you to make a positive impact in the health and wellness industry. With an online college degree, you can gain knowledge and skills that will allow you to provide nutrition advice and counseling for individuals, families, communities, and organizations. You can also use your degree to research new ways to improve health outcomes through diet and lifestyle changes. With this degree from an online college, you can make a significant difference in people's lives.
Registered Dietician/Nutritionist
A registered dietitian is a certified nutritionist. Your degree in nutrition is valid, but you can give yourself an edge by becoming a registered dietitian. You need a bachelor's degree with approved courses from the Academy of Nutrition and Dietetics' Accreditation Council for Education. Other requirements are 1,200 hours of supervised apprenticeship and passing the Registration Examination for Dietitians.
Food Safety Auditor
The role of this profession is to ensure food businesses offer safe food for public consumption. Food safety auditors travel frequently, so you'll want to consider that before choosing this path. If you love helping organizations maintain healthy standards around food and don't mind traveling, this could be an excellent route for you! This position tends to have high salaries.
Food Scientist
Food scientists evaluate food's nutritional content and research how to improve food production. They also develop better ways of packaging and distributing food. As a food scientist, you could research new ways of detecting contaminants.
Clinical Nutritionist
You could earn a Clinical Nutritionist Certification from the Clinical Nutrition Certification Board. A clinical nutritionist evaluates a person's diet while considering their medical history. Licensed physicians and other healthcare professionals could refer you after getting your Clinical Nutritionist Certification.
Nutritional Consultant
Similarly, if you want to be a nutritionist consultant, you can obtain certification from the American Association of Nutritional Consultants. Consulting also has its own set of additional materials to learn.
Holistic Nutritionist
If you obtain a holistic nutrition degree, you could acquire certification from the Holistic Nutrition Credentialing Board (HNCB). In addition to holistic nutrition certification, the HNCB offers the Certified Nutrition Professional (CNP) title. Anyone who has a bachelor's or higher in nutrition can apply for their nutrition professional certification. For the holistic-specific certification, however, you need to choose holistic nutrition as a specialization.
Nutrition Specialist
Certified Nutrition Specialists use science-based nutrition therapy to improve their clients' health. They create specialized plans based on the individual's body and goals. The CNS credential, one of the most prestigious for nutritionists, is recognized across multiple states. An additional benefit of obtaining the CNS credential is access to a supportive community that can connect you to other relevant professionals.
Certified Nutrition Specialist exams occur twice a year. Applications to take the exam are usually due two months in advance of the exam period, which takes place over five days. The American Nutrition Association has hundreds of testing centers across the country to limit how far you need to travel. You'll also need two letters of recommendation and official transcripts from an accredited college.
Nutrition Coach
Nutrition coaches take on a more active role with clients. They hold them accountable for reaching their health goals through regular check-ins, tracking their progress, and motivating them. Coaches also praise clients for their wins. Some states have regulations on referring to yourself as a health coach or a nutrition coach. You should check the laws where you live to know if you need specific certifications in addition to your nutrition degree to promote yourself as a nutrition or health coach.
The National Academy of Sports Medicine provides nutrition coach certifications. Coaching requires different skills than being a nutritionist because you must learn how to motivate others.
Healthcare Administration
According to the BLS, the demand for healthcare administrators will increase by 28% from 2021 to 2028. This is significantly higher than the average career growth of 5%. A career in healthcare administration requires business knowledge. You would manage a hospital or another medical facility as a healthcare administrator.
How Much Does a Nutrition Degree from an Online College Cost?
Annual tuition for an online college offering nutrition degrees ranges from $5,000 to $31,000. It's possible to earn a master's degree in nutrition in the $5,000–$7,000 price range. Our list below includes several online colleges with affordable programs.
How Long Does It Take to Get a Nutrition Degree from an Online College?
An online bachelor's degree in nutrition may take four years for a full-time student to complete. Associate degrees take around two years. It's possible to finish both programs faster at an online college. Regarding course credits, you typically need 120 for a bachelor's and 60 for an associate's. A master's degree in nutrition is faster because you only need 30-course credits. Students can finish master's programs in as few as 12 months. If enrolling in a doctorate program, you must fulfill research requirements, a dissertation, and coursework. Most students take 4–6 years to finish a doctorate program in nutrition.
Are There Affordable Online Nutrition Degree Programs?
As long as the school you attend is regionally accredited, its popularity doesn't matter. Remember that nutritionists are in high demand. Online degrees from in-state public schools tend to offer the most affordable rates. That said, research out-of-state schools with online programs as well. You may find the program you want at a feasible rate. There are plenty of affordable, accredited online nutrition degree programs.
Is a Nutrition Degree from an Online College Worth it?
Earning a nutrition degree from an online college is worth it because you will qualify for many nutritionist positions, and you can work toward a more prestigious certification once you have your degree. Job growth in nutrition is high, so it will be easy for you to find employment upon completing your degree.
From an emotional perspective, being a nutritionist is also a rewarding career. You would help people improve how they feel and help them live longer by creating pathways to a healthy diet. From a financial perspective, holding a degree in nutrition pays well too.
Online enrollment gives you more flexibility in your schedule because you don't have to show up at a physical location at a certain time. You don't need to pay parking fees or boarding costs either. Online programs allow you to choose part-time schedules if you need to work while being a student.
One thing to be aware of before pursuing a degree in nutrition is a few states allow anyone to call themselves a nutritionist. This would mean more competition for your services if you choose to work as a freelance nutritionist. Employers will still prefer someone with a degree, but you might prefer moving to a state with stricter requirements, especially if you are going into private practice.
10 of the Best Schools Offering Online Nutrition Degree Programs
The schools on our list offer exceptional online programs. We listed these regionally accredited schools in alphabetical order.

ASU offers a bachelor's degree in food and nutrition entrepreneurship that consists of 120 credit hours, with each class taking 7.5–15 weeks to complete. You'll be prepared to open a nutrition-related business or develop new food products upon completion.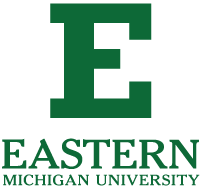 EMU offers a combined bachelor's and master's program in dietetics. You can move on to become a registered dietitian with this accredited degree. It's accredited by the Accreditation Council for Education in Nutrition and Dietetics of the Academy of Nutrition and Dietetics.

You can choose a specialized path in healthcare administration, athletic nutrition, or clinical nutrition at Kansas State University. Additional special courses available are on allergies and intolerances and personal wellness.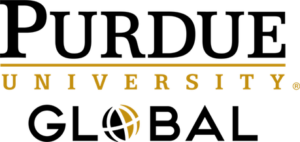 Purdue University offers a specialization in holistic nutrition approved by the National Association of Nutrition Professionals (NANP). If you want to complete your education fast, Purdue has an accelerated bachelor's to master's program. You also have the option of an internship to acquire experience.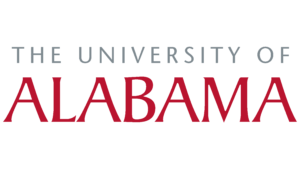 You can obtain a Bachelor of Science in Food and Nutrition that the Academy of Nutrition and Dietetics accredits. Applications are accepted throughout the year. If you graduated high school more than four years ago, you do not need to submit ACT/SAT scores.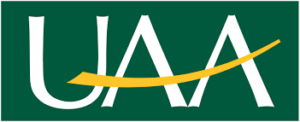 UAA has an online Bachelor of Science in Dietetics and Nutrition and a The university is accredited by the Northwest Commission on Colleges and Universities (NWCCU). The Accreditation Council for Education accredits their courses in Nutrition and Dietetics.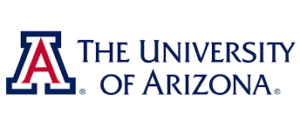 A Bachelor of Nutritional Sciences from the University of Arizona prepares you for a career as a nutritional adviser at schools, wellness centers, the military, and non-profit organizations. Because the Accreditation Council for Education accredits the program in Nutrition and Dietetics, you qualify to pursue certification as a registered dietitian.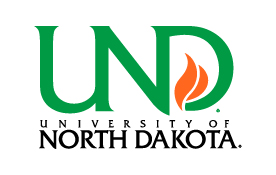 UND's human nutrition bachelor's degree program is the exact cost for people in and out of state. The school works hard to make sure online education is e gaging. Students will participate in online simulations, streaming video content, lesson modules, virtual libraries, discussion boards, and chatrooms. The Higher Learning Commission of the North Central Association of Colleges and Schools accredits the degree program.


You can take the Dietetics Bachelor of Science or DPD-only program at the University of Northern Colorado. The DPD-only coursework is for people who already have a bachelor's and just need to finish the Didactic Program in Dietetics requirements.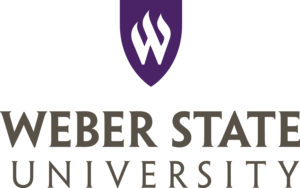 Weber State University sets you up for a career in nutrition education with a Bachelor of Science in Nutrition Education. You can focus on integrative nutrition or sports nutrition as well. This program enables you to move on to working in a research laboratory.
Getting your Nutrition Degree from an Online College
Before choosing what online college to attend, consider your desired career. Some positions in this field require specific licensure or certification. Once you have determined the exact requirements for your career, begin researching degrees that help you achieve your goals.
There are several certification options for nutritionists that increase their earning potential and boost their credibility. Although you are already credible with a degree, your certification helps set you apart. Check the requirements of the certification that you want to earn before choosing an online degree program.
Some certifications require a certain number of hours of experience. You may have to start your career in an entry-level job or an internship to accumulate the hours you need for certification. To become a registered dietitian, you need 1,200 hours u der a licensed professional. Qualifying supervisors include an Individualized Supervi ed Practice Pathway (ISPP), a coordinated program (CP), and a traditional Dietetic Internship (DI).
It's possible to obtain an internship or a shadowing opportunity while working on your bachelor's. Another option is to take a gap year before moving on to graduate school to acquire the in-field experience you'll need.
Conclusion
Obtaining an online nutrition degree is a lot of work but worth it for the quality career opportunities that it provides. There is a great need for nutritionists. This career path is also steadily growing to meet this increased demand. More people are starting to care about turning their hea th around. You could work one-on-one with clients or target communities with campaigns to educate them about nutrition and spark their desire for a better diet. Being a nutritionist is a rewarding career in terms of salary and the impact you can make in the world.
Additional Resources
2023 Guide to the Best Online Colleges for Dietetics
2023 Guide to the Best Online Colleges for a Master's in Music Education