2023 Guide to the Best Online Colleges for an IT Degree
With the rise of technology in the modern age, the demand for Information Technology (IT) professionals has grown significantly. An online IT degree has become a popular option for individuals seeking a flexible and convenient way to obtain the skills and knowledge necessary to enter or advance their careers in this field. An online IT degree program can provide students with a comprehensive understanding of computer systems and applications, software development, network administration, and cybersecurity, among other important topics. This article explores the benefits of pursuing an online IT degree and provides tips on choosing the right program to meet your educational and career goals.
Best Online Colleges for Information Technology
This sector remains a smart one to enter, but jobs in information technology often require a college education tailored to the industry. You can acquire in-demand IT knowledge from highly respected universities online. Further, according to the latest U.S. News & World Report research, today's employers commonly welcome degrees from online colleges.
If a career within IT's corner of the job market interests you, weigh your online education options thoughtfully. Gain all the knowledge you can. As you think about making this turn in your life's journey, take the time to familiarize yourself with several important considerations related to pursuing an IT degree online.
Specializations for an Online IT Degree
Before picking an online school, you need to think about what you like to do when you use your computer or mobile device. Focus on pursuits related to IT, and write down your thoughts. Consider your passions and abilities. This exercise will help you realize which IT specializations can fit into your life. Online IT degree programs offer a wide range of specializations in specific areas of interest within the field. Some of the most popular specializations for online IT degree programs include:
Cybersecurity: This specialization protects computer systems and networks from cyber threats such as malware, hacking, and other attacks.
Network administration: This specialization focuses on designing, installing, and maintaining computer networks for organizations.
Software development: This specialization focuses on the design, development, and testing of software applications for computers, mobile devices, and other electronic devices.
Web development: This specialization focuses on the design and creation of websites, web applications, and online content using programming languages such as HTML, CSS, and JavaScript.
Data analytics: This specialization focuses on analyzing and interpreting complex data using computer-based techniques and tools to extract insights and make data-driven decisions.
Cloud computing: This specialization focuses on using remote servers to store, manage, and process data and developing software applications that can be accessed over the internet.
Artificial Intelligence/Machine Learning: This specialization focuses on developing algorithms, models, and software applications that can learn and make decisions based on data, as well as creating intelligent systems that can perceive, reason, and act.
We have listed a few of the many specializations available for online IT degree programs. Choosing a specialization can help students focus their studies and gain expertise in a specific area of interest, leading to better job opportunities and career growth.
Career and Salary Information for an Online IT Degree
Expect to graduate from the best online colleges for information technology with highly marketable skills and the potential for increased earnings. The Bureau of Labor Statistics has a wealth of data about IT-related careers. You can explore it in detail by visiting that page. According to the BLS, as of May 2021, the median worker in the industry grossed $97,430 annually. That figure is more than double the gross income of the median American worker.
As you plan your future, compare these job titles and median wages from the industry.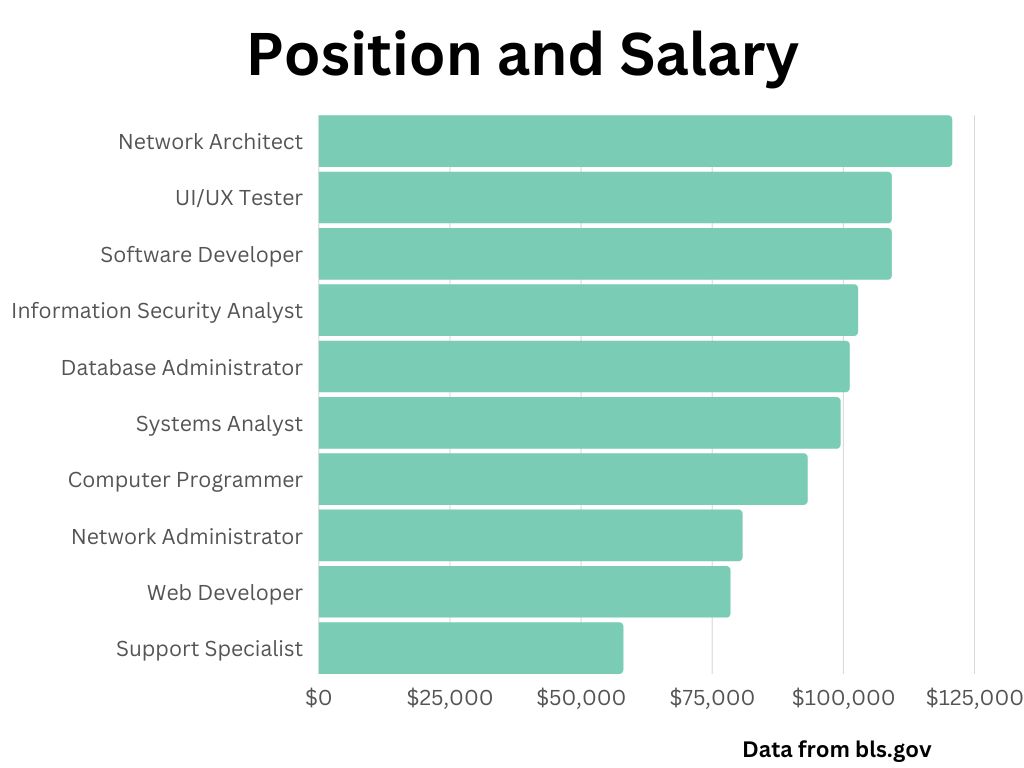 | | |
| --- | --- |
| Position | Salary |
| Network Architect | $120,520 |
| UI/UX Tester | $109,020 |
| Software Developer | $109,020 |
| Information Security Analyst | $102,600 |
| Database Administrator | $101,000 |
| Systems Analyst | $99,270 |
| Computer Programmer | $93,000 |
| Network Administrator | $80,600 |
| Web Developer | $78,300 |
| Support Specialist | $57,910 |
Data from bls.gov
Naturally, many factors will ultimately determine your salary in the IT industry. For example, the job market where you live and your willingness to relocate or work remotely can come into play. After you graduate, any relevant experience can impact your ability to increase your income. Selectively applying with businesses without real competition in the applicant pool can boost your pay, too.
Curriculum and Courses for an Online IT Degree
The descriptions in this section will help you understand the variety of coursework you will likely encounter in an online college's IT curriculum. Of course, your specific study experience will depend on your chosen school and the online IT degree you pursue.
Operating Systems
For decades, operating systems have managed the tech that moves the world forward. Early in your online IT education, you will learn about the operating systems that set information technology in motion. You'll study aspects of current operating systems as you move toward graduation.
Programming
Throughout your pursuit of an online IT degree, you can look forward to exploring programming languages and techniques. In some courses, programming will be the focus. At other times, it will be one aspect of the coursework. To increase your marketability, consider obtaining advanced knowledge about algorithms and artificial intelligence.
User Interfaces
This coursework teaches about the consumer's experience with technology. You will likely study the technical and creative aspects of building an interface. The online study program you select may also offer courses that make you an expert in the tech user's experience.
Web Development
Through these courses, you will learn the languages and skills that will make you marketable to businesses that need to build tools for the web. Given the web's continuously evolving role for businesses, learning a rich array of web development skills may provide you with a deep pool of employment prospects throughout your career.
Cybersecurity
You will study how to protect networks from cyber attacks during classes in cybersecurity. The coursework may also include demonstrations of computer viruses and other threats. Advanced cybersecurity courses can make you employable in finance, defense, and other high-stakes sectors.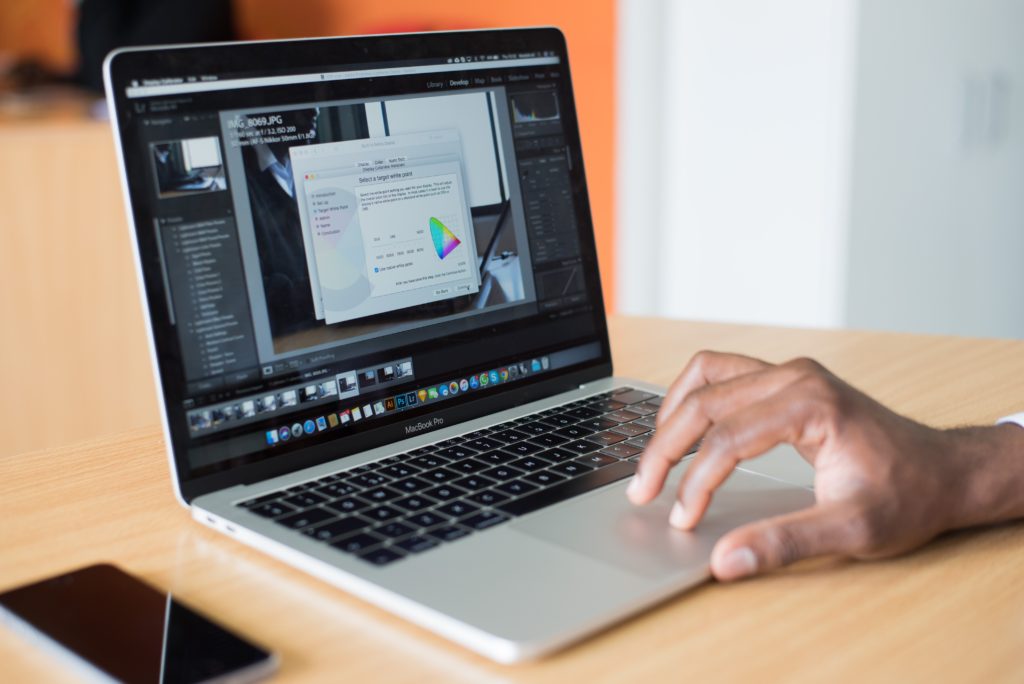 Database Concepts
Coursework on databases will help you appreciate how they run and why today's business world needs them. You could become a database guru as a result. While courses that cover database concepts may go by different names at different schools, you can expect to acquire top database knowledge via any of the best online colleges for IT programs.
Networking Concepts
Understanding your company's network better than any other employee can give you the power to command a handsome salary. Courses in this area of study will help you appreciate how to properly design, run and maintain modern networks.
Project Management
As a project manager, you can lead your employer in fruitful, mutually beneficial directions for your company, its clients, and you. Increase your project management expertise through these courses.
Capstone Project
At your online college, you may have the opportunity to complete a final project for credit hours during your last quarter or semester. This capstone project allows you to create something compelling to show potential employers. You could develop a cutting-edge website or mobile app, design a unique interface, or code an innovative cybersecurity defender. Capstone projects allow you to show off what you've learned in your online IT program.
Admissions Requirements for an Online IT Degree
Typically, online degree programs feature easier admissions processes than traditional programs. Acceptance into online IT programs varies, of course. Notably, the top online universities for IT degrees have advisors to help you navigate their school's admissions path.
Some common requirements for admission follow.
High School Diploma or GED
If you have no credits to transfer from another undergraduate program, you must prove that you completed high school or a GED program. For a nominal service fee, your high school or GED provider will forward a transcript to the online institution you want to attend.
Minimum GPA
Expect a minimum grade point average for admittance into most online IT programs. The common minimum GPA is 2.0. Still, if you need a little flexibility, you may be able to find it from your admissions advisor. They will have more leeway than their counterpart on a traditional campus.
Application and Fee
Admittance can only follow a formal application, of course. You will submit your application with a fee, which some schools will waive for promotional purposes. If you have questions about your application, just contact your admissions advisor.
Essay
Many colleges no longer require essays for general acceptance. Still, even if your preferred IT program does not expect an admissions essay, you might consider submitting one. Showcasing your writing skills and highlighting your passion for IT could set you apart from other applicants.
Orientation
After admission, your new online college may require you to attend orientation before beginning your coursework. Importantly, you may be able to complete this requirement online. When you attend college online, orientation helps you get properly acquainted with your new program's expectations and available resources. You will likely cover the usage of the program's online library, assignment submission, school policies, and how to contact instructors properly. Orientation helps you begin your new journey confidently.
Accreditation for an Online IT Degree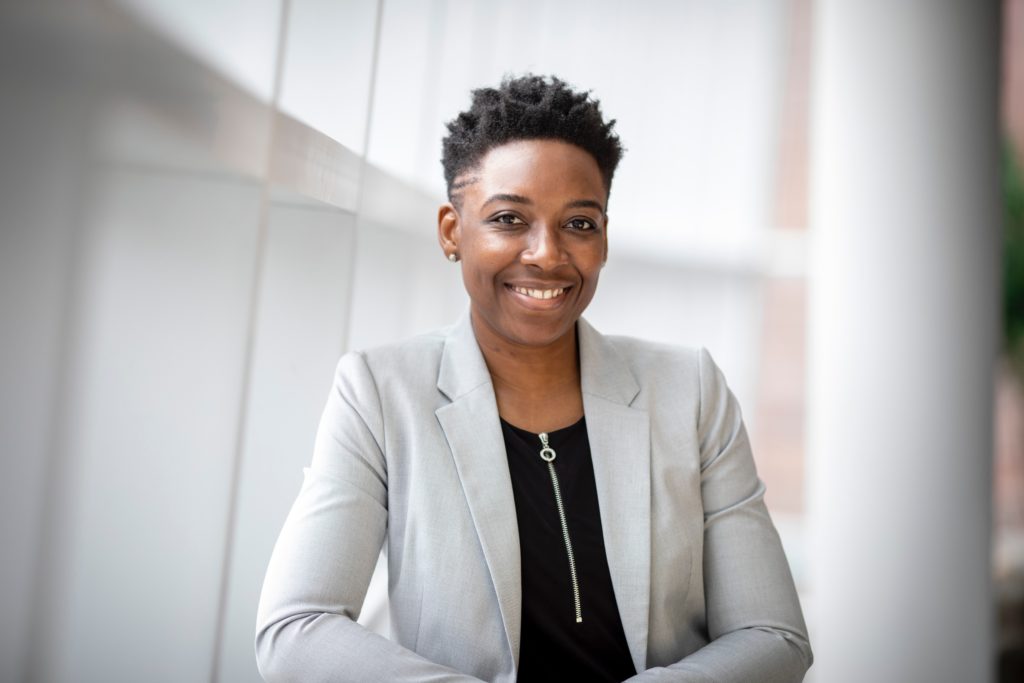 When pursuing an online IT degree, it's crucial to take accreditation into account. Accreditation is a form of external quality assurance that guarantees that an educational institution or program satisfies specific quality and rigor criteria. By obtaining accreditation, students, employers, and other stakeholders can be confident that the degree program adheres to industry standards and will equip students with the essential knowledge and skills required to excel in their desired field.
Accreditation for Online Colleges
Online colleges can be accredited on a regional or national level. We recommend regional accreditation for the highest standards. You have to attend a regionally accredited school to be eligible for federal financial aid. Here are the seven regional accrediting bodies for online colleges:
Accreditation for IT Programs
The two primary accrediting bodies for online IT degree programs in the United States are the Accreditation Board for Engineering and Technology (ABET) and the Distance Education Accrediting Commission (DEAC). ABET accredits engineering, natural and applied science, computing, and engineering technology programs. The Computing Accreditation Commission (CAC) of ABET specifically accredits undergraduate programs in computer science, information systems, information technology, and other computing-related fields. DEAC, on the other hand, is a private organization that provides accreditation to distance education institutions, including those offering online IT degree programs.
When considering an online IT degree program, make sure that a recognized accrediting agency accredits the degree. Accreditation guarantees that the program meets certain standards of rigor and quality and that employers and other institutions will recognize the degree. Accreditation can also impact a student's eligibility for financial aid and transfer credits to other institutions. Overall, accreditation is an essential factor to consider when choosing an online IT degree program.
Financial Aid & Scholarships for an Online IT Degree
Funding an online IT degree is similar to funding a traditional on-campus degree program. The main difference is that you may have more flexibility when attending classes and completing coursework, making it easier to balance work and other commitments while pursuing your degree. However, the cost of tuition and fees for online programs can vary widely, so it's essential to research your options and consider your budget carefully.
Federal Financial Aid for an Online IT Degree
One option for funding your online IT degree is through federal financial aid programs. You'll need to complete the Free Application for Federal Student Aid (FAFSA) to apply for federal financial aid. This form will help determine your eligibility for federal grants, loans, and work-study programs. The level of financial aid you receive depends on factors like your income, the cost of attendance, and the number of credits you're taking.
Scholarships for an Online IT Degree
Another option is to look for scholarships or grants specifically for online students. Many foundations and organizations offer scholarships to students pursuing degrees online, which can be a great way to reduce the cost of tuition and fees. You can search for scholarships and grants on websites like Fastweb, Scholarships.com, and College Board.
Private Loans for an Online IT Degree
If you need additional funding after exhausting all other options, consider taking out a private student loan. Private student loans can cover tuition, fees, and other educational expenses. However, it's important to carefully compare multiple lenders' interest rates and repayment terms before taking out a loan.
Overall, funding an online IT degree requires careful planning and research. By exploring all of your options and making a plan that works for your budget and financial situation, you can achieve your academic and career goals without breaking the bank.
What Can You Do With an Online IT Degree?
The IT field provides lucrative careers and will grow substantially over the next decade. Here are some of the most relevant careers for individuals with an online IT degree:
Software Developer: Software developers design and develop computer programs and applications. They may work on various projects, such as creating mobile apps, developing business software, or designing video games.
Cybersecurity Specialist: Cybersecurity specialists protect computer networks and systems from cyber-attacks. They may work for various organizations, such as government agencies, financial institutions, or technology companies.
Network Administrator: Network administrators manage computer networks, ensuring they run smoothly and efficiently. They may also be responsible for troubleshooting and resolving network issues.
Data Analyst: Data analysts collect, analyze, and interpret large data sets to help organizations make informed decisions. They may work in various industries, such as healthcare, finance, or marketing.
Web Developer: Web developers design and develop websites, ensuring they are functional, user-friendly, and visually appealing. They may also manage website content and ensure it is up-to-date.
IT Manager: IT managers oversee technology-related projects and teams within an organization. They may manage budgets, develop technology strategies, and ensure that technology systems run smoothly.
Overall, an online IT degree can prepare you for a range of exciting and challenging careers in the technology field. Whether you're interested in software development, cybersecurity, data analysis, or another area of IT, an online IT degree can provide you with the skills and knowledge you need to succeed.
How Much Does an Online IT Degree Cost?
You will save money by obtaining your new IT degree online. You can find multiple paths to an online IT degree that cost less than $30,000 for 120 credits among the best colleges that serve this market. By comparison, that sum would not last much more than a year in the traditional college scenario.
The actual cost of your online degree in IT will depend on multiple factors. After all, you will pay less in tuition if you can acquire scholarships or grants. Remember that grants and scholarships do not require repayment, so you can confidently use them to cover your tuition.
How Long Does it Take to Get an Online IT Degree?
If you start from scratch, you can expect to spend four years earning one of these degrees online. Applicants who can transfer credits into a program will require less time, naturally. At some colleges that teach IT online, you can transfer up to 90 credits.
Some online schools offer accelerated IT programs, which let you graduate in significantly less time. If you apply to such a program, remember that its schedule may place unprecedented demands on your schedule.
Any real-world experience you may have in the IT sector could also translate into credit hours. Ask your admissions advisor about this possibility. A shorter path to your online degree in IT may await you.
Are There Affordable Online Colleges for Information Technology?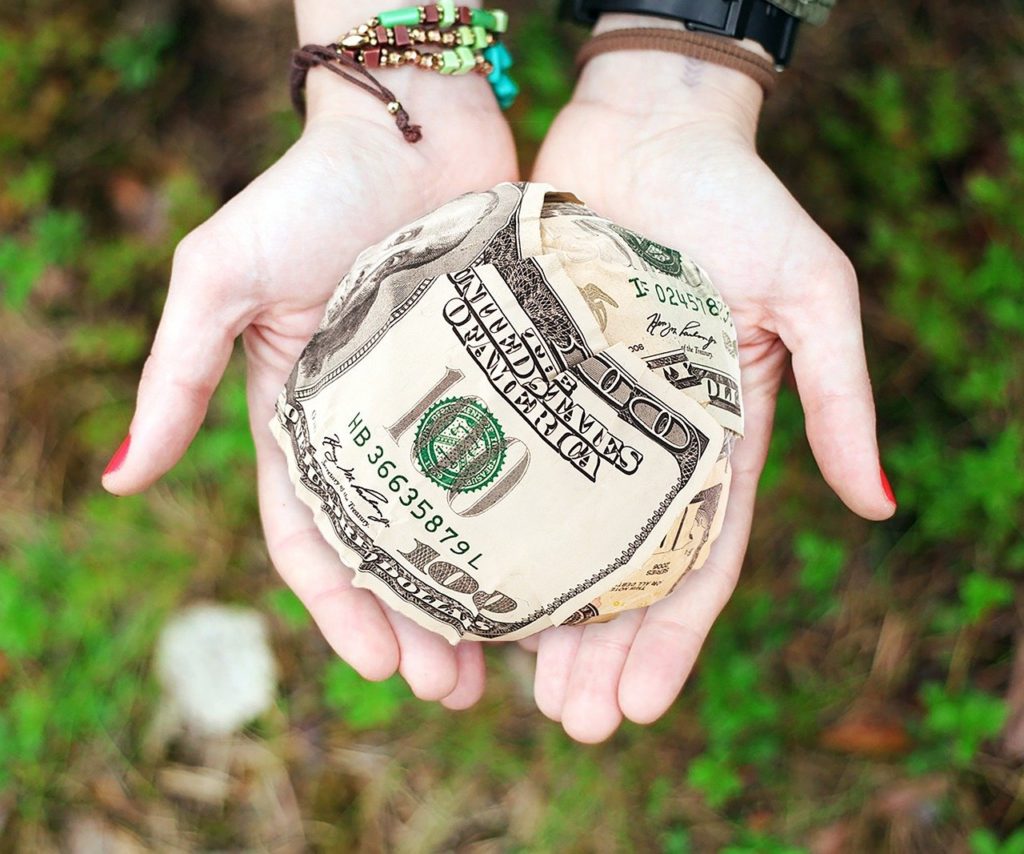 Yes, there are many affordable online colleges for IT degrees. The cost of an online IT degree can vary widely depending on the school and program, but several options offer high-quality education at an affordable price.
Consider looking for public colleges and universities that offer online IT programs. Public schools often have lower tuition rates than private schools, and some provide in-state tuition rates to online students
regardless of where they live. Additionally, many public schools offer financial aid and scholarships to help offset the cost of tuition and fees.
It's also important to consider the cost of textbooks and other materials when evaluating the affordability of an online IT program. Some schools offer free or low-cost digital textbooks, which can help reduce the overall cost of attendance.
Overall, there are many affordable online colleges for information technology degrees. It's important to research your options carefully and compare tuition rates, financial aid opportunities, and other factors to find the program that best fits your needs and budget.
Is Getting an IT Degree From an Online College Worth it?
Getting an IT degree from an online college can be a worthwhile investment, depending on your personal circumstances and career goals. It's important to carefully evaluate your options and consider factors like cost, flexibility, and program quality before deciding.
You can shift your life trajectory with the proper online IT education. Most jobs graduates qualify for have a high salary. That fact makes the money, time, and effort required for this degree worthwhile investments. In a relatively short period, your online pursuit of an IT degree can add comfort and security to your life.
10 of the Best Schools Offering Online IT Degrees
Earning your ideal online degree in this field begins with determining which school below is right for you. Use this convenient list to help streamline your process. Visit the online colleges' websites to research their programs and requirements thoroughly. These are regionally accredited schools, and we have fully vetted them, so you can confidently apply for admission. The schools are presented alphabetically.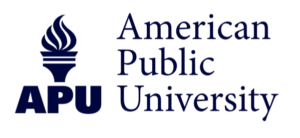 You can earn American Public's Online Bachelor of Science in Information Technology from the university's School of Science, Technology, Engineering & Math. Principally, this program prepares you for building databases, networks, and web properties. You will also learn about deploying other assets related to this field. Of course, top-notch programming skills are on the menu. American Public lets you apply up to 90 transfer credits toward the 120 needed for completion.

By completing 40 classes and 120 credit hours, you can earn ASU's Online Bachelor of Science in Information Technology. Once you complete your first two academic years' requirements, this online college lets you focus your education on cybersecurity, networking, or information systems. For advanced IT knowledge, you can also acquire ASU's Master of Science in Information Technology.

You can acquire a Bachelor of Science in Computer Information Technology at this popular online college. The professors and coursework at CBU can prepare you for the full range of experiences and challenges you'll encounter in this field. Importantly, this unique program could be completed in as few as in only 16 months.

DePaul lets transfer students complete their BS in IT online. You can join this program with 30 credits, a minimum GPA of 2.0, and good standing at your previous school. DePaul's Jarvis College of Computing and Digital Media offers the degree.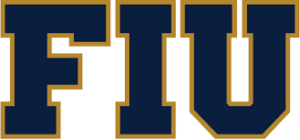 This excellent university gives you two online IT degree options. You can earn a BS or a BA. The BA option lets you develop IT skills if you already possess another college degree or if you are pursuing one. Both programs at FIU teach in-demand skills.

Georgia Southern is among the state's leading universities for engineering and computing, so you're wise to consider its Bachelor of Information Technology. Branded the BIT, this degree program features 124 online credit hours, which GSU lets you fit into your busy schedule. The program also includes free online tutoring.

Herzing focuses on meeting the needs of non-traditional students, and it offers a career-focused IT curriculum. In this program, you can develop the foundation you will need to work with databases, networks, and cybersecurity infrastructure. Tuition covers your prep and first-attempt exams for CompTIA Security+, Network+, and A+ certifications.
This online campus offers its Bachelor of Applied Arts and Sciences in Information Technology, which gives you a unique way to transfer from a community college to the university. The BAAS in IT covers the full spectrum of coursework needed to thrive in the field after you graduate.

You can pursue your Bachelor of Science in Information and Communication Technologies online at UW-Stout. As part of completing these online IT degree courses, you will have the opportunity to earn essential industry certifications. This program touts 100% employment or further educational pursuits for its existing graduates.

WKU's Bachelor of Science in Computer Information Technology is 100% online. This program lets you graduate with only 36 WKU credits if you have adequate transfer credits. Expect to learn technical skills and soft skills from this program. That combo can make graduates more employable.
Getting Your Online IT Degree
With your options fully reviewed, you can choose the right online IT program. As you decide, remember to compare this opportunity with your current goals. Ask yourself if you have the time for online IT degree coursework. Thankfully, programs that work around busy schedules are also found on this list.
Lightning-fast tech lets today's top online colleges offer these IT degree programs. By earning your IT degree, you could become a key person behind one of these leading online colleges' websites or fulfill a similar role at a different organization. Of course, with the right education, drive, and opportunity, you could truly change the world after graduation.
Notable Resources
2023 Guide to the Best Online Colleges for Communication
2023 Guide to the Best Online Colleges for Public Administration